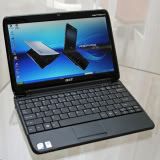 Despite reports to the contrary, Acer has confirmed that its 11.6-inch Aspire One AO751h netbook will be hitting US shores. We reported yesterday that Acer may be phasing out this model following poor sales and the introduction of a new 11.6-inch CULV-based Timeline model next month.
However, according to Laptop Mag, the A0751h will be hitting US retail by the end of this month. The model is available now at WalMart (though it is not listed on Walmart.com). It will also be sold at Amazon, Target.com, Shopko and Office Max starting on June 14, RadioShack on June 15, J&R and PC Richard on June 21 and Staples on June 28.
Regarding the rumours on the Aspire One 751's demise, an Acer spokesman said, "the Aspire One and the Timeline Series are very different platforms. The Aspire One is a lightweight, mobile internet device, ideal for taking advantage of online applications such as e-mail, social networking, listening to online music, making online VoIP calls and web surfing. The Timeline Series is a notebook PC that offers enough power for not only online applications but also movies and productivity applications, such as spreadsheets, Word documents and presentations."
Either way, I can't see what harm it would do to crank up the CPU offered with the 751 from a 1.33GHz Z520 to the 1.6Ghz Z530 Atom. A single-core CPU running at such a low clock speed just doesn't cut the mustard these days, especially if sporting a high-resolution display.