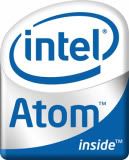 The first details have emerged regarding Intel's next-generation of Atom processors codenamed 'Pineview'. According to industry sources in Taiwan, Intel is planning to launch the single-core Atom N400 series targeted for netbooks. The single-core Atom D400 and dual-core Atom D500 series will be targeted to the nettop market. This will be paired with the Intel NM10 Express chipset (codenamed 'Tiger point').
The first next-gen netbook Atom processor will be the N450, which will replace the 1.6GHz N270 Atom. The Pine Trail platform will see the current three-chip system move to two-chips, leading to lower costs, greater power efficiency and performance. For example, the new two-chip design (Intel N450 Atom + NM10 chipset) compared to the old three-chip platform (Intel Atom N270 + 945GSE + ICH7M) will result in a 64 percent space reduction from 2174mm2 to 773mm2.
The N450 Atom processor will support hyper-threading, run at a clock speed of 1.66GHz, and have 512KB L2 Cache. The processor will also support 2 DIMM slots with a maximum memory capacity of 2GB. The Integrated Graphics Processor (IGP) will also see its clock speed increase from 133MHz to 200MHz. The IGP will include GMA500 graphics rather than the GMA950 seen in most netbooks today. Hopefully by the time this chip is released there will be proper Linux drivers for the GMA500.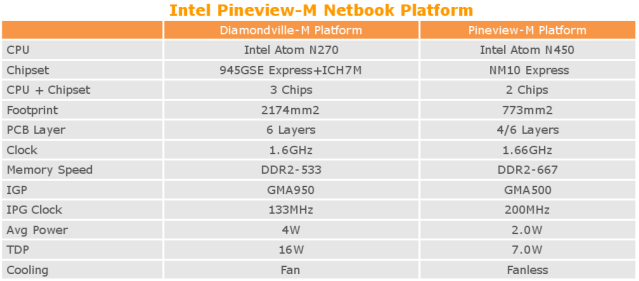 These new chips will enable much slimmer netbook designs due to the cool chip performance. Average power consumption will drop 50 percent from 4W to 2W. Also, the TDP of the N450 will be just 7W compared to 16W for the N270 Atom CPU. As a result of this, we will start to see more fanless netbook designs.
In addition to the N450 Atom, Intel will also release the Nettop Atom versions D410 and D510. The D410 Atom will be more or less the same as the N450 with the same 1.66GHz clock speed. The only difference is that the IGP will be clocked even higher, resulting in a slightly higher TDP. The dual-core D510 Atom CPU will also be clocked at 1.66GHz, support hyper-threading and have 1MB L2 Cache.
These chips are expected to be shipped from the fourth quarter later this year, however we may end up seeing the N450 release early in that quarter, with a possible October release date. The current Atom processors, such as the N270, N280, 230 and 330, will be phased out by Q2 2010. Last order notices for OEMs will be in Q1 2010.
Via HKEPC.