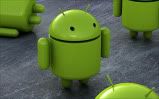 Smartbook devices are set to become much more commonplace as we reach the end of the year. They run on ARM-based processors and as such feature integrated 3G, GPS, Wi-Fi and Bluetooth on the chip itself. They differ from netbooks in that they are 'always connected' to the Internet and are meant to have battery lives lasting between 8 to 10 hours.
As they these chips are not x86, it means running Windows XP, Vista or Windows 7 is not an option. What manufacturers will be able to choose from is a growing stable of netbook-centric Linux distributions (including Android) or Windows CE. Some Gartner analysts have given their own thoughts after checking out a number of smartbook devices running Google's Android operating system at Computex.
Whilst they felt Android still has quite a bit of polishing to do in terms of smartbook/netbook devices, they do feel it will ultimately succeed. "When Android did work, we found that the user interface was very snappy on relatively low-performance ARM processors, more so than Windows 7 on Atom," Christian Heidarson and Ben Lee wrote in Gartner's Semiconductor DQ Monday Report.
ARM-based chips are more power efficient and run much cooler than current Intel Atom chips. For this reason, many ARM-based smartbooks can run in fanless designs. Microsoft has repeated many times that it has no plans to develop a particular Windows operating system catered for ARM devices. This means Android can push itself onto this segment without the giant spectre of Windows looming over.