June 16, 2009 at 10:35 pm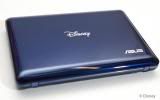 Disney is launching its own branded netbook called the Netpal, which is effectively a re-skinned Asus Eee PC. The 8.9-inch Netpal will be targeted for kids between the ages of 6 to 12. The design appears to be reasonably subtle for what is a children's netbook, you get a reasonably discreet Disney logo on the lid of the case.
However, you'll find the kiddie-theme in a special user interface which fits over Windows XP. This will come with several themes that kids can change including Toy Story and Cars. As you can imagine with a kid-targeted product, security is of the utmost importance. You'll find the usual parental and email controls and sites can only be surfed that have been approved by parents.
A number of widgets are also available including a radio, digital memo pad, calculator and stopwatch. The Netpal is powered by an unspecified Atom processor and will come either with a 160GB HDD or 16GB SSD. The Netpal weighs between 1.0-1.2kg (2.2-2.6lbs). The netbooks will come in "Princess Pink" (with florals) or "Magic Blue" (miniature Mickey Mouse icons) colours. The Netpal is set to launch in late July and will retail for $350 from Amazon.com and Toys R Us.
Update: Laptop Mag has gone hands-on with the Netpal and they found it to be very durable and the keyboard is spill-proof. They have a video on the site that's worth checking out too.