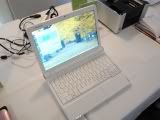 Lenovo's upcoming ION-powered Ideapad S12 netbook is one of our most anticipated netbooks. It's still unclear whether or not the S12 ION will arrive in Europe, but either way, it is likely to be a landmark launch for Nvidia's chipset.
PC Pro has managed to get a first look at the S12 ION and they were left were positive impressions. The Ideapad S12 ION partners a 1.6GHz N270 Atom CPU with the Nvidia 9400M GPU. This boosts its performance over the normal Intel integrated chipset used (945GSE). The results speak for themselves. Encoding a 1080p movie trailer took just four minutes with the S12 compared to an equivalent Atom netbook that took 15 minutes.
Specs-wise, the 12-inch (1280 x 800) S12 includes 2GB RAM, rather than the 1GB normally bundled with netbooks. It also has a 320GB HDD and the version that PC Pro played with also came with HSDPA. The case felt very sturdy with the palm rest showing no flex. The display was also not prone to bending. The keyboard was comfortable to use and the touchpad was responsive. Hopefully, we look forward to more benchmark results on the S12 ION soon.