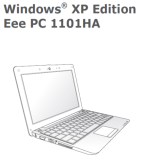 As we have started to see pre-orders for Asus' 11.6-inch Eee PC 1101HA Seashell netbook open here in the UK, it was a matter of time before the English manual went live. We've been pouring through the pages and some quite interesting titbits have come through. The most intriguing appears to be that Asus has opened up the BIOS to allow its users to manually overclock the 1101HA.
Asus already has a utility called the 'Super Hybrid Engine' which has several different modes (Power Saving, High Performance, Super Performance) that automatically under/overclock the CPU based on your needs. This new BIOS option allows you to configure what overclock value you want when you switch to Super Performance mode.
The manual doesn't talk about what the maximum value is locked too, but this news should appease those who have been overclocking their Eee PC's beyond what Asus intended in the first place. I imagine that we may start to see this option in other Eee PC's too.
Other things we noticed include a hard button on the top-left of the keyboard that will be used to toggle the touchpad on /off. I'm not sure why such an option was needed considering that it is part of the Function key interface too. Like all other new Eee PC netbooks, the 1101HA will come with Eee Docking which includes various features including SRS Premium Sound and Eee Download.
For those wondering about upgradability, you only have an access panel for the RAM. To change the HDD or Wi-Fi module you'll need to unscrew the whole bottom panel unfortunately. The 1101HA also has a multi-touch touchpad, but for some reason the manual only mentions the zooming in/out gesture. There's nothing related to two-finger scrolling, let's just hope this is an oversight on the manual itself.