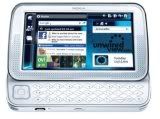 Following intense rumours and speculation this morning, Intel has now officially announced that it is to partner with Nokia to "define a new mobile platform beyond today's smartphones, notebooks and netbooks". Exactly what kind of gadgets these will be remains a mystery, although it may just be both companies trying to push the Mobile Internet Device (MID) segment which hasn't taken off as Intel hoped.
Intel talks of these devices having "ubiquitous Internet connectivity" in a "pocketable form factor". All of this sounds incredibly similar to the smartbook devices being pushed by ARM-based companies such as Qualcomm and Freescale. It even talks of low power computing.
However, the announcement isn't only limited to hardware. It also talks of a collaboration in software and mobile Internet services. This includes several open source mobile Linux software projects as well as Intel acquiring a Nokia HSPA/3G modem IP license for use in future devices.
"With the convergence of the Internet and mobility as the team's only barrier, I can only imagine the innovation that will come out of our unique relationship with Nokia. The possibilities are endless," said Anand Chandrasekher, Intel VP of the Ultra Mobility Group. Kai Öistämö, Executive VP at Nokia Devices went on to say: "We will explore new ideas in designs, materials and displays that will go far beyond devices and services on the market today."
These future devices will be based on the Moblin and Maemo Linux-based operating systems. Moblin was founded by Intel and is targeted to Intel Atom-based devices. This heightens the possibility of a Nokia netbook type device in the future. Maemo is currently used in Nokia's N810 internet tablet.