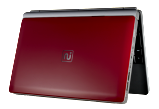 Always Innovating's unique Touch Book tablet has moved beyond the concept stage and has finally entered production. The 8.9-inch tablet has a sliding keyboard dock so that it can be used in a more traditional netbook form-factor. The company has also shown off photos of the very first unit.
The Touch Book is powered by a Texas Instruments OMAP3530 processor, 512MB RAM and 8GB flash storage. It also includes Wi-Fi (b/g/n), Bluetooth and two external USB ports. As it is using a power efficient ARM processor, battery life is expected to last 10-15 hours.
The first shipment is expected to arrive in July 2009. Pre-orders for the Touch Book tablet cost $299, if you want the keyboard docking device then that will set you back another $100. For those in the UK and Europe that are interested in the device, Always Innovating is now accepting international orders following huge demand. However, just so that you're aware, you'll be stuck with a US keyboard and US plug.
Via Engadget.