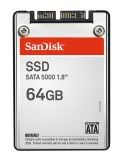 The penetration of Solid State Drives in notebooks and netbooks will not be as high as expected in 2009 due to their high price according to DRAMeXchange. It claims that the ratio of SSDs used in notebooks and netbooks continues to decline, resulting in "sloppy overall SSD shipments". SSDs are generally more power efficient, faster and less prone to shocks like HDDs are, although the flip side is that these advantages come with a big price premium.
The report suggests that the SSD penetration rate in notebooks will be as low as 1.0 to 1.5 percent in 2009, and below 10 percent in netbooks. The higher penetration rate seen in netbooks is due to the fact that many of the original models shipped with low capacity flash drives.
SSD price points shot up in the first half of the year, which hampered SSD adoption rates. A solid state drive costs four times higher than a hard-disk drive when looking at cost per gigabyte. The report said that SSD demand forecasts have been tailed back over previous expectations. NAND flash price is expected to decrease once 30nm and 20nm fabrication processes become mainstream and SSDs become more popular in the market.
Via Fudzilla.