June 30, 2009 at 11:24 pm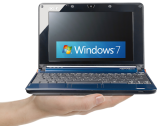 Microsoft announced its Windows 7 upgrade program earlier this week. The fact that Windows XP devices have not been earmarked for an upgrade has left some netbook vendors upset. They are concerned that this may lead to negative publicity in the netbook segment and are thus looking to clear XP-based netbook stock to make way for Windows 7.
This is not an opinion shared by all, as some vendors believe that consumers are not willing to pay a premium for the new Windows 7 OS. Some are only planning to bundle Windows 7 with Intel's new Atom processor, the 1.66GHz Pineview N450. This will continue to leave netbooks based on the older processors (N270/N280) with Windows XP.
In related news, Asus is lowering prices of its 7-inch and 8.9-inch Eee PCs to try and clear inventory. According to sources in the retail channel, prices in Taiwan for 7-inch models have been lowered from NT$6,999 to NT$4,999 (US$153). In China, prices for the Eee PC 900A has been reduced to 1,499 Yuan (US$219). This price drops may start to impact Western markets shortly.
Via Digitimes.