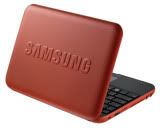 The speculation surrounding Samsung's first 11.6-inch ION-powered netbook continues to grow. Laptop Mag is reporting that the Samsung N510 will be heading to the United States in 2009 although the exact timing is unclear. A company representative says that it should appear during the "Q3 and Q4 time frame" which doesn't narrow it down much.
The Samsung N510 will not replace the company's 12.1-inch NC20 as it has been selling above expectations. It is currently exclusively on sale at Newegg, although other retailers are set to offer the model in the coming months.
The report also confirmed that the Samsung N310 will launch on 15th July 2009, but it has now been rebranded to Samsung Go. A strange decision, if true. The Samsung Go will come with a high capacity 8800mAh battery which is expected to last over 10 hours although it does not sit flush with the case. The Samsung Go will be priced at $479.