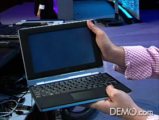 Always Innovating's Touch Book device is due to start shipping to customers this month. Up until now, we have not been privy to any videos of the device in action. A video has now emerged that's a few months old, from a conference called Demo. However, it does a good job of showing exactly what the Touch Book is and why it's different to your average netbook.
The Touch Book is one of the first devices that is effectively a tablet with dockable keyboard. This means it can be used in a traditional netbook form-factor as well as a tablet. It is based on an ARM processor (TI OMAP3530 CPU) and is therefore a fanless system with a battery life of between 10-15 hours.
It runs its own flavour of Linux and this instantly boots up its founder claims. We are also shown glimpses of the UI when flicking between different applications. If you are not fond of their OS you can always stick in your own Linux distro. It uses the Fennec browser from Mozilla to take advantage of touch.
The hardware has a built-in accelerometer and the company is planning a few iPhone games to take advantage of this on launch. It also seems that the bottom lifts off quite easily to reveal the internal USB dongle that you can use to attach a USB 3D card, Wi-Fi or WiMax. Check out the video for yourself below.
Via UMPC Portal.