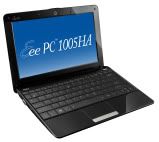 Whilst we already know lots about the Eee PC 1005HA and 1101HA Seashell netbooks, both models have officially been announced for the UK market today. The 10-inch 1005HA will come in two different SKUs and launch at the end of the month. We would suggest that consumers pay special attention to both model numbers as there are significant differences between both SKUs.
The cheaper 1.6GHz N270 Atom netbook will cost £329 and is available in black (1005HA-BLK083X) and white (1005HA-WHI064X). This model comes with a lower-rated 6-cell battery (4400 mAh) that should be good for 8.5 hours according to the company. You will not find Bluetooth on this model and it only has a 0.3MP webcam. The N270 SKU also has a matte (1024 x 600) display. Asus also does not include a netbook sleeve with this version.
The more expensive 1.66GHz N280 Atom model costs £379 and is also available in black (1005HA-BLK068X) and white (1005HA-WHI050X). This model includes Bluetooth 2.1+EDR, a 1.3MP webcam, a netbook sleeve and a higher capacity 6-cell battery (5600 mAh) good for 10.5 hours. This version also comes with a glossy screen.
The 11.6-inch 1101HA will come in two colours, black (1101HA-BLK004X) and white (1101HA-WHI004X). It is powered by a 1.33GHz Z520 Atom CPU and comes with a 1366 x 768 resolution display, full-sized keyboard, 1GB RAM and a 160GB HDD. It also comes with a 6-cell 4400mAh battery that should be good for 8.5 hours. The 1101HA will be released within the next couple of weeks for a RRP of £379.
Asus Eee PC 1005HA N270 [1005HA-WHI064X / 1005HA-BLK083X]
Intel® Mobile (Atom) N270 1.6GHz
Genuine Windows® XP Home
Windows® Live Suite
Anti-glare 10″ WSVGA(1024×600)
1024MB, DDR2
160GB HDD + 10GB Eee Storage
WiFi 802.11n
10/100 Ethernet
3x USB 2.0
1x VGA
1x SD/MMC card reader(SDHC)
1x Audio in
1x Audio out
Hi-Definition audio CODEC, Built-in stereo speaker, Built-in microphone
0.3M Pixel Webcam Built-in
Battery Life: up to 8.5hrs (6 cells 4400mAh 48.84W/h)
1.27kg (with 6 cells battery)
Available Colours: White; Black
Asus Eee PC 1005HA N280 [1005HA-WHI050X / 1005HA-BLK068X]
Intel® Mobile (Atom) N280 1.66GHz
Genuine Windows® XP Home
Windows® Live Suite
10″ WSVGA(1024×600)
1024MB, DDR2
160GB HDD + 10GB Eee Storage
WiFi 802.11n
10/100 Ethernet
Bluetooth 2.1 EDR
3x USB 2.0
1x VGA
1x SD/MMC card reader(SDHC)
1x Audio in
1x Audio out
Hi-Definition audio CODEC, Built-in stereo speaker, Built-in microphone
1.3M Pixel Webcam Built-in
Battery Life: up to 10.5hrs (6 cells 5600mAh 62.64W/h)
1.27kg (with 6 cells battery)
Available Colours: White; Black
Asus Eee PC 1101HA [1101HA-WHI004X / 1101HA-BLK004X]
Intel® Atom™ processor Z520 1.33GHz
Genuine Windows® XP Home
Windows® Live Suite
11.6" WXVGA(1366×768)
1024MB, DDR2
160GB HDD + 10GB Eee Storage
WiFi 802.11n
10/100 Mbps Ethernet
Bluetooth 2.1+EDR
3x USB 2.0
1x VGA
1x SD/MMC card reader(SDHC)
1x Audio in
1x Audio out
Hi-Definition audio CODEC, Built-in stereo speaker, Built-in microphone
1.3M Pixel Webcam Built-in
Battery Life: up to 8.5hrs (6 cells 4400mAh 48.84W/h)
1.4kg (with 6 cells battery)
Available Colours: White; Black