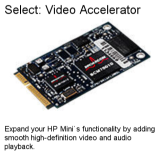 The HP Mini 110 netbook was promised a number of optional upgrades this month and right on cue, these options are now available. First off, you can now opt for a high resolution 10.1-inch screen for an additional $30. This will bump up the resolution from 1024 x 576 pixels to 1366 x 768 pixels.
You may want to pair this with the Broadcom Crystal HD Enhanced Video accelerator, which will cost an extra $30. This card should allow smooth playback of HD video content. However, you will have to use this with the bundled ArcSoft TotalMedia Theatre software to take advantage of the video acceleration. TotalMedia Theatre will give you access to MKV, MOV, MP4, AVI, WMV and TS/M2TS files.
A couple of more colour options have also appeared over the standard black. This includes Pink Chic and White Swirl, which costs an extra $20. Unfortunately, these options are only available on the Mini 110 XP Edition for now, rather than the Linux-based Mini 110 Mi Edition. You can see that once you start adding these options over the Mini 110 XP base price of $329.99, the cost quickly starts to shoot up!
Via Engadget.