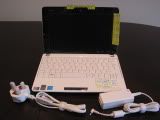 The Asus Eee PC 1005HA was officially announced for the UK today and Asus were kind enough to send over the netbook for testing. The Eee PC 1005HA looks very similar to the first 1008HA Seashell model, but is slightly thicker and heavier due it having a removable battery (the 1008HA has a sealed battery). You also don't get the flaps over the port doors that you get in the slimmer 1008HA. The 1005HA also has a full-sized VGA port.
As we reported earlier, there are two (quite different) UK SKUs for the Eee PC 1005HA. The model that we were sent is the Eee PC 1005HA-WHI064X. This particular version is the white 1005HA powered by a 1.6GHz N270 Atom CPU. Compared to the more expensive N280 Atom model, this model has a lower capacity 6-cell battery, no Bluetooth, no netbook sleeve, a matte screen (N280 SKU has a glossy screen) and a 0.3MP webcam (N280 SKU has a 1.3MP webcam).
The 1005HA comes with a glossy lid and palm rest that is prone to fingerprints. Luckily, the white model is less of a fingerprint magnet than the black versions. We are fond of the 'Seashell' design and the tapered edges meet elegantly when closed. We also like the fact that it uses a matte display that automatically earns it extra brownie points.
Judging by our first impressions, the keyboard seems comfortable to use and there doesn't seem to be the flex that we saw on the Eee PC 1000HE. Asus uses a matte finish for the flat keys on the keyboard. The touchpad is defined by a dimpled surface, rather than an explicit boundary. Underneath sits a faux-chrome single button mouse rocker. We were sceptical how user friendly this would be, but we have been thoroughly impressed so far. It's very responsive to the touch without being overly sensitive.
We should have a thorough review up in a few weeks time, but until then, have a gander over our unboxing pictures below. In the meantime, if you have any questions about the Eee PC 1005HA, please let us know in the comments below.