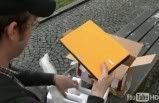 The Dell Latitude 2100 netbook is the company's first 10-inch device targeted to the education segment. To keep it as kid-proof as possible, the Latitude 2100 has a network activity light on the lid, rubberised case, a fanless bottom to avoid spills as well as some optional extras such as an anti-microbial keyboard, carrying handle and shoulder strap.
Sascha from NetbookNews has unboxed the Latitude 2100 and given his initial impressions. The netbook is available in 6 colours and the one they handled was 'School Bus Gold'. When you first lay eyes on the Latitude 2100 it does look quite chunky compared to current netbooks. However, Sascha says that this is incredibly well built that you could even probably drop without causing too much damage.
The netbook shipped with both Windows XP and Vista discs, giving you an option to choose which OS you want to install. It comes with a 3-cell battery that should be good for three hours of battery life. There are no access panels, not a surprise considering that it is "spill resistant". The display was very interesting, looking like a cross between a glossy and matte display. Check out what we mean by watching the video after the jump.