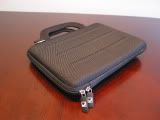 Netbooks are designed with portability in mind. A growing market of netbook sleeves, cases and bags are now becoming available to protect your netbook when on-the-road. Whilst sleeves do a good job of keeping the dust out and protecting against scratches, they won't save your netbook if dropped. However, we do have one case here that should do a good job of protecting your beloved netbook against bumps and knocks.
The Cool Bananas Hard Cover netbook case was kindly sent over by GearZap, who are a specialist retailer of netbook and laptop accessories. They have an extensive catalogue of products and deliver across Europe. Our case impressively arrived in just one day. This particular case should fit any netbook between 8.9-inches to 10.2-inches. The Cool Bananas Hard Cover Netbook Case is available in five different colours (Black, Navy Blue, Brown, Red and Pink) and costs £21.95. GearZap apply a small delivery charge on top of this depending on whether shipping is to the UK or mainland Europe.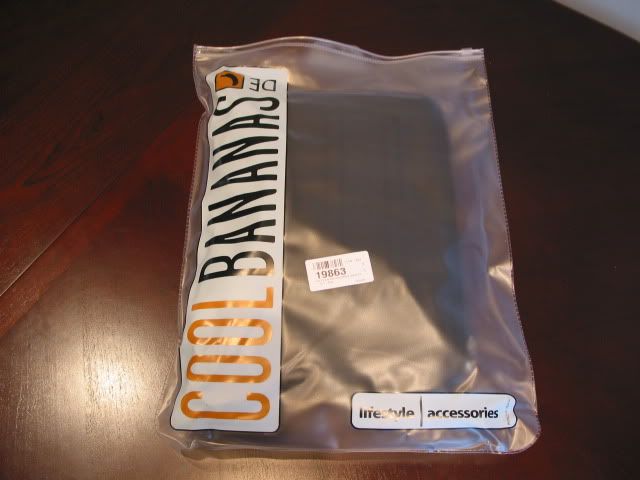 Given how sleek and slender some netbooks are, I've never really understood the relatively giant cases or bags that exist from some manufacturers. If you've just bought a small skinny device, the last thing you want to do is carry around a big bag that's meant to be designed for a netbook. That is where this Cool Bananas case really stands out. I was impressed by the simplicity of the case. There are no frills and that bodes well – everything in the case has been designed purposefully.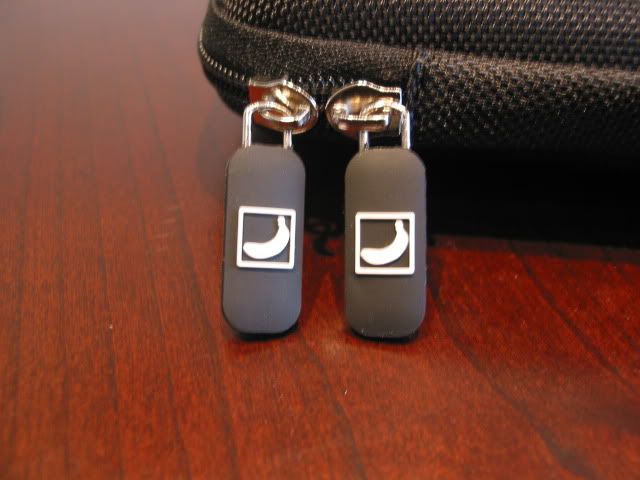 Also, you immediately notice how small the case is. With dimensions of 27cm x 20cm x 3cm, you can probably tell that the case doesn't take much extra bulk. It's even small enough to use whilst in a rucksack, if needed. The case is also very lightweight at just 438g.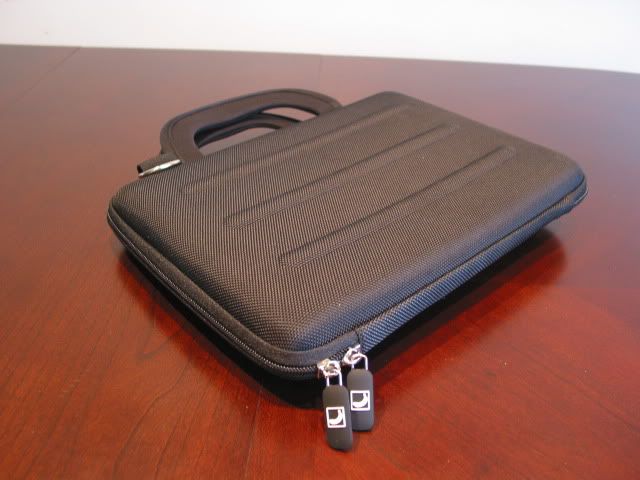 The case is made from "sturdy shock-resistant materials" according to the website and this is something the does come through. The cover cannot be easily bent and has a soft foam lining inside to keep the netbook in good shape.
A fixing belt with Velcro strap is used to keep the netbook in place and there is a pocket on the opposite side where you can fit small accessories. Unfortunately this doesn't extend to a UK plug which provided just a little too much bulk. However, you can fit the adaptor with ease as well as memory cards, pens paper etc.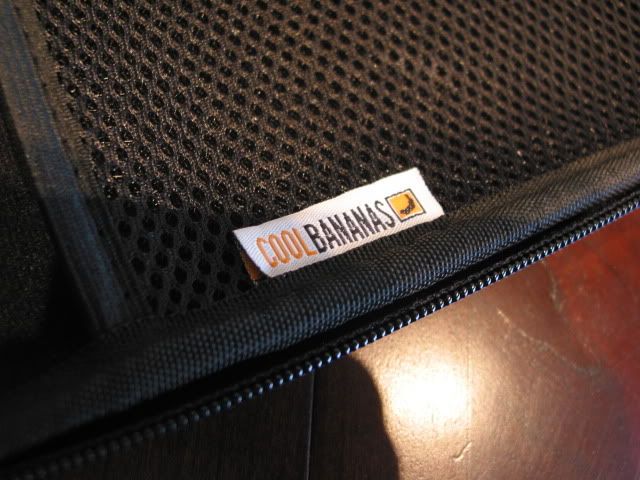 A shoulder strap is also provided and includes a comfortable shoulder pad too. This shows how confident Cool Bananas feels that this case can be used as a standalone case.
Thankfully, the buckle opens very easily to attach it to the main case. Some shoulder strap buckles that we've used in the past cause immense pain when trying to attach it to the main case!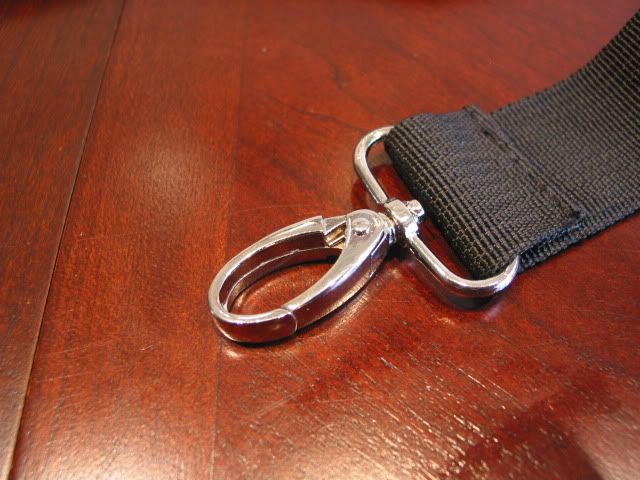 We tested the case with soon-to-be-released Asus Eee PC 1005HA. If you look carefully, you can see a long recess towards the bottom of the case, where the battery should slot into it. Cool Bananas have obviously accounted for the fact that many cases have batteries that stick out! I do wonder how well a netbook would fit that had a protruding battery to the rear though, rather than underneath, much like the Toshiba NB200. I imagine if it did stick out too much you could always detach the battery and stick it in the pocket on the opposite side of the case.
The Asus Eee PC 1005HA fits nice and snugly inside, secured with the Velcro strap. In the pocket opposite, you can probably make out the power adaptor.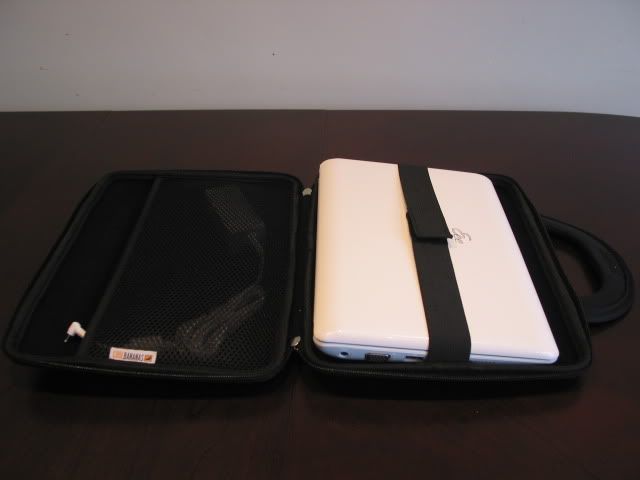 Even when closed, the case zips up securely with just enough breathing room to make sure it's not a struggle getting it in and out.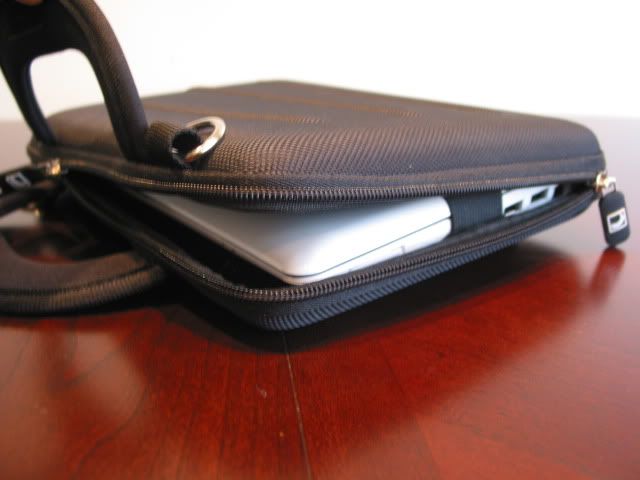 When fully closed you probably couldn't tell the difference if your netbook was in there or not (apart from the weight difference!) The handles on top also have Velcro that can be fastened together if you want to carry the case by hand.
As you can tell, the case remains impressively thin, even with a netbook inside.
The straps and shoulder strap feel secure. I would be confident in using this as a standalone case when out and about. It also hardly adds to the weight of the netbook at 438g.
This case should have no problems fitting any 10-inch netbook that is currently on the market. Here you can see the case fitting a MSI Wind U115 very comfortably.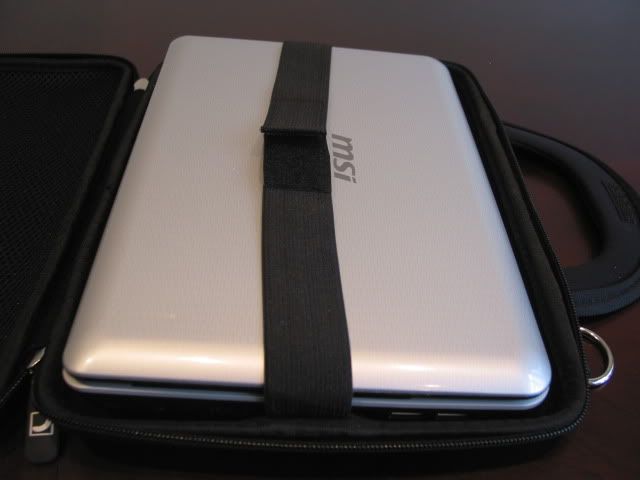 Overall, we are happy to recommend this product and it's no surprise to see it as one of GearZap's best-selling cases. It's small, lightweight, sturdy and ultimately gives you peace of mind. There is nothing fancy about the design, even though I think it has an understated elegance. Cool Bananas has designed a very well made product that should do a sterling job of protecting your netbook.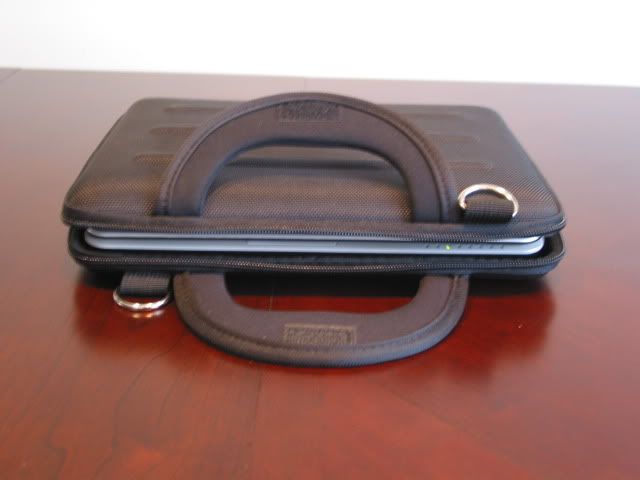 Many thanks to GearZap for sending through this case for review! Gearzap is a relatively new site but it comes from the people behind Mobile Fun, which is one of the biggest mobile accessory sites in the UK. Judging by how fast the netbook market continues to grow, we are sure GearZap will be just as successful.