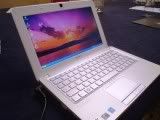 Sony's first entry to the netbook market, the Vaio Mini W-series, was announced yesterday. Whilst we found out how much this netbook will cost in the US and mainland Europe, a UK price was conspicuously absent. We now know that the Vaio W will cost £399 including VAT, when it's released in mid-August.
A number of publications went hands-on with the Vaio W netbook today and came back with mixed reactions. PC Pro thought its biggest selling point was the high-resolution (1366 x 768) screen. The screen was bright and text was sharp, although they did feel the 10.1-inch screen was a bit too cramped. The chassis is made of plastic, although with a textured finish. Whilst the chiclet (isolation) keyboard looks great in the pictures, they said that the Samsung N110 keyboard was more usable.
What Laptop also feels that the HD screen is its standout feature. They found the colour and contrast to be excellent. The touchpad is large and has responsive mouse buttons. TechRadar liked the 86 percent keyboard although they were concerned on slightly small keys. They also loved the screen, using adjectives such as "stunning" and "vibrant" and calling it "one of the best netbook screens we've seen to date".