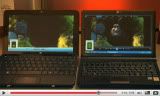 There have been many questions surrounding the Broadcom Crystal HD video accelerator, which gives you the ability to watch 1080p HD content on your lowly Atom-based netbook. The HP Mini 110 XP is one of the first netbooks that uses this Crystal HD solution and more are planned in the future.
Broadcom has given a video demonstration of this technology in action. Naren Sankar from Broadcom's Consumer Electronics Group, placed two 10-inch netbooks side-by-side. One HP Mini 110 XP (with Crystal HD) and a Lenovo S10 to the right of it. He played a 1080p h.264 video file on both and noted the differences.
The Lenovo struggled to play the content, with skipped frame rates and dropped audio. CPU utilisation was also around the 90 percent mark. They were using Windows Media Player for this demonstration and I wonder whether using VLC would have made any difference to CPU usage.
This contrasted with the HP that was able to playback the video smoothly and no problems with audio. Naren claimed that CPU utilisation using the Crystal HD chip maxed out at 25 percent but we could see it hovering between 30 to 40 percent during the demo. I'm not sure what media player they were using, but it was not Windows Media Player. It's probably ArcSoft's TotalMedia Theatre software that is bundled with the Broadcom Crystal HD option with the HP Mini 110. Check out the video below.
Via Portable Monkey.