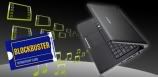 This one seems a bit of a strange partnership in our eyes. Blockbuster has announced that it has partnered with Archos to offer the Archos 10 netbook for sale across 1,000 US stores. Whilst the specifications of the Archos 10 is very run of the mill, Blockbuster will be offering the netbook for a very reasonable $299.99.
Obviously, if you go to rent a DVD from Blockbuster, there's no chance of it playing back on your netbook, which has no optical drive. However, it seems they are making sure you think of Blockbuster by ordering rentals online or using their download services. "Enhancing our consumer electronics offerings with an affordably priced netbook that allows customers to access our online rental, retail and download services, whether they're at home or on the road, is a natural fit," said Joanne DeLorenzo, VP of Products at Blockbuster.
The Archos 10 has already been succeeded (in design only) with the Archos 10s that is much slimmer than the Archos 10 but comes with the same specifications. The Archos 10 comes with a 10-inch LED backlit display powered by a 1.6GHz N270 Atom processor, 1GB RAM and a 160GB HDD. It also comes with a 1.3MP webcam and integrated Wi-Fi.
Via UMPC Portal.