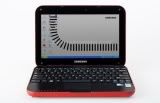 The Samsung N310 netbook has been rebranded the 'Samsung Go' in the United States. The Samsung Go is near enough identical to the N310 sold in the UK, however one (crucial) area in which it differs is the battery included.
The US version comes with a high capacity 6-cell (8850mAh) battery, which the company claims to last over 10 hours although it does not sit flush with the case. This replaces the 4-cell battery found in the UK version.
Laptop Mag has reviewed the Samsung Go and under their tests, it lasted for 8 hours and 23 minutes. They claim that the battery isn't too big either which is always a bonus. Considering that the relatively poor battery life in the European SKUs was one of the main areas of criticism (along with price), Samsung has done well in addressing this issue for the US market.