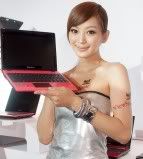 Viewsonic is traditionally known for its LCD monitors, however it looks like they are throwing their hat into the already overcrowded netbook segment. The company will be launching two new netbooks under the VNB100 and VNB101 model names.
Whilst both model names are very similar, they do look quite different from each other. Ironically the cheaper model (VNB100) has more features than the more stylish VNB101, which bears more than a resemblance to the luxurious Asus Eee PC S101.
The VNB100 has a 10.2-inch (1024 x 600) display powered by a 1.6GHz N270 Atom CPU. You'll find the usual 1GB RAM and a 160GB HDD as well as Wi-FI, a 1.3MP webcam, card reader and three USB ports. Unusually for a budget model, it will also come with an Expresscard slot. The VNB100 measures 36mm (dimensions: 253 x 189 x 36mm) in thickness and weighs 1.4kg.
The pricier VNB101 has the same display as the VNB100 but comes with a marginally more powerful 1.66GHz N280 processor. It also comes with 1GB RAM and a 160GB HDD. Other features include Wi-Fi, Bluetooth 2.1, card reader and 0.3MP webcam (versus 1.3MP webcam in the VNB100). This model is much slimmer at 27mm thickness and weighs a respectably 1.1kg.
There's no word on battery life on either model, but they should be available in Asia-Pacific later this month. A European launch is expected later in the year. Converting the price, the VNB100 is priced at a reasonable £256 compared to the VNB101 which costs £293. The VNB100 will come in four colours (black, white, yellow and 'hot pink'). The VNB101 will come in three colours (black, red and champagne).
Update: NetbookNews have a hands-on video of the VNB100 and VNB101 netbooks. Check it out below.
Via Engadget Chinese.