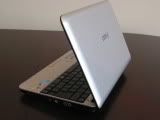 The MSI Wind U115 Hybrid netbook is perhaps the most fully featured netbook on the market today. It's driven by the powerful Poulsbo Intel chipset and an energy-efficient Z520 Atom processor. The biggest talking point surrounding the U115 Hybrid, however, is its dual hard-disk drive and solid-state storage. A combination of the above factors leads to the longest battery times we've seen in a netbook thus far.
All of this comes at a premium though. At around £450 the U115 Hybrid is significantly more expensive than its 10-inch peers. Despite the technology involved, this price may have been easier to swallow had the design moved on since the original Wind U100. However, if you have the spare cash and are not dictated by the fashionista, then the U115 Hybrid definitely deserves your consideration. Read on for our thorough review, including some comprehensive performance and battery tests.
Positives:
– Best battery life seen in a netbook so far
– Fully featured specifications (incl. Wi-Fi (Draft-N), Bluetooth 2.1 & 1.3MP webcam)
– Robust build quality
– Solid keyboard with no flex, comfortable to use over long periods
– Bright, matte display
– Runs very cool and quietly
– Loud speakers, although loses clarity at very loud volumes
Negatives:
– Does not offer the best value for money given its price-point
– Limited storage space on primary 'C' drive (8GB SSD)
– Some may view design as bland
– Small touchpad compared to peers, mouse buttons not well defined
– SSD is a slow performer
– Touchpad is highly sensitive, commands registered too easily
– No chance of upgrading components without voiding warranty
– No overclocking options (unlike Wind U100)
MSI Wind U115-025UK Hybrid Technical Specifications:
Processor: Intel Atom Z530 1.6GHz Processor
Operating System: Windows XP Home
Chipset: Intel Poulsbo US15W
System Memory: DDR2 533MHz, 1GB (By Module only) (Chipset supports up to 2GB)
LCD Display: 10-inch (1024×600) LCD Panel
Audio: HD Audio, Stereo speakers
HDD: 160GB 2.5″ SATA HDD / 8GB SSD
Webcam: 1.3MP
Card Reader: 4-in-1 Card Reader, SD/MMC/MS/MS Pro
Communication Port: Built-in 10/100 LAN
Built-in 802.11b/g/n WLAN Card
Bluetooth 2/1+EDR
Ports: Graphics Card Output (15-pin, D-Sub) X 1
USB2.0 Port X 3
Mic-in Port X 1/Line-in Port x 1
Headphone Output X 1
LAN Port X 1
AC Adaptor: 20V DC, 40W
Battery Pack: 6-cell 5200mAh battery (58Wh)
Dimension: 260(L) X 180(D) X 19-31.5(H) mm
Weight: 1.0KG with 3-cell battery
Price (at time of publication): £459.00 (Amazon.co.uk), £439.97 (Laptops Direct), £459.99 (Play.com)
The MSI Wind U115 Hybrid is one of the very few netbooks on the market today that ships with two hard drives, one conventional 160GB hard-disk drive and a smaller 8GB solid-state drive. The idea behind this hybrid storage system is not one of space, but of battery life. By being able to switch off the HDD, you can get longer battery times when just using the SDD (that has no moving parts). This is an ideal scenario, for example, when you are out and about browsing the internet.
Contributing to longer battery times is the inclusion of the 1.6GHz Intel Atom Z530 processor. The Z series of Atom processors have marginally lower power draw and produces less heat than the N270/N280 Atom CPUs. In fact the combined TDP (thermal design power) of the processor and chipset is under 5W This processor is paired with the newer Intel Poulsbo US15W chipset, rather than the ageing 945GSE that pretty much adorns the majority of netbooks on the market today.
The US15W chipset includes Intel Graphics Media Accelerator 500 (GMA 500), memory controller, and I/O controller in a single-chip. The benefits of the chipset (in theory) is that the chipset has hardware video acceleration. This means that the burden of video acceleration is taken off the processor. According to Intel, the chipset accelerates a number of video formats including H.264, MPEG2, MPEG4,VC1, and WMV9. Whilst all this sounds promising, later in this review we discuss that the reality is a bit different.
In terms of the rest of the specifications, you won't find anything missing. We get a nice 10-inch (1024 x 600) matte display, which we prefer to glossy displays. It comes with Wi-Fi (Draft-N), the latest Bluetooth 2.1 spec, 1.3MP webcam, 4-in-1 card reader and three USB ports.
We previously covered the MSI Wind U115 Hybrid unboxing here. Inside the box you'll find a soft pouch, power supply, a couple of system CDs along with various pieces of documentation. The pouch deserves particular praise; it was one of the best that we've seen bundled with a netbook. You can tell from the quality of materials used that this should last a long time and provide very good protection against knocks and bumps. It comes with a secure Velcro strip along the top that keeps the netbook secure. You also get an additional pocket where you can stick in some (small) accessories.