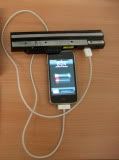 Now I've certainly never seen anything like this. The guys over at Prusadjs.cz hacked a MSI Wind battery so that it could be used to charge other USB devices, namely an iPhone. The 3-cell battery only provides a few hours of battery to run the netbook, but it has enough to power to keep a USB device charged for a while.
The mod is not for the faint hearted, he ended up opening up the battery and soldering an USB port. The great thing is that once modded it still can be used to power the MSI Wind netbook. Check out the video after the jump.
Via Make [via GottaBeMobile [via Liliputing]].