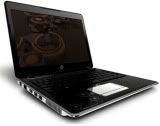 HP may be working on a couple of new netbook models to be released in the second half of the year according to Digitimes. A number of manufacturers have recently released larger sized netbook models, with display sizes of 11.6 or 12.1-inches. HP may be following suit, the report suggests that original design manufacturer, Quanta Computer, will start production of a new 11.6-inch device from August.
Quanta will also have a new 10.1-inch netbook model in production for Hewlett-Packard by the year-end too. This will be in addition to a revised 10.1-inch netbook to begin production by Inventec from the end of September.
There are no details on any of these netbooks, although looking at the timeline, a sensible guess suggests they will come with the Windows 7 operating system. They may even end up launching with the next-generation Atom 'Pineview' processor. The 11.6-inch model may also end up being a CULV-based ultra-thin device. As soon as we have clarification we'll let you know.