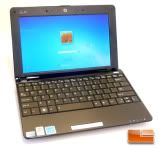 The release of Windows 7 is set to be a milestone for netbooks. Most netbooks run Windows XP, an operating system that is starting to show its age. Against the heavy hardware requirements of Vista, Windows 7 is set to be the next major Windows OS fully embraced by netbook devices. It's relatively light system requirements and native multi-touch gesture support will ensure its presence on many netbooks from the fourth quarter this year.
However, some of you may be wondering, how much of an overhead Windows 7 uses compared to Windows XP. This is where a good benchmark roundup from Legit Reviews comes into play. They compared the performance of both operating systems and used the same benchmarks across both OSes on an Asus Eee PC 1005HA to determine which gave the better netbook performance.
Benchmarks used include wPrime, 3DMark06, PCMark05, Cinebench, Sandra 2009, HD Tune and Geekbench. The end result is a bit of a mixed bag, but it may not surprise you to learn that the lighter Windows XP still edges it overall. Battery performance was also marginally won by Windows XP too. On an idle battery test under XP, the battery lasted for 10 hours and 14 minutes, just 9 minutes longer than Windows 7. The movie playback delta under XP was slightly larger at 26 minutes.
Whilst some may still want to cling onto Windows XP for a long while yet, these performance results show that Microsoft has done a good job of making Windows 7 as lightweight as possible. It also means that performance and battery life won't be heavily compromised. The Eee PC 1005HA managed a score of 2.2 on the Windows Experience Index's graphic test, which even allowed Aero to be used (whilst on AC power).