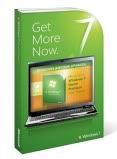 The launch of Windows 7 on October 22nd 2009 will herald a mass netbook uptake of the new OS. After that launch date, most new netbooks released will be running Windows 7 over XP. Of these, most will come with the lowest-specced 'Starter Edition' version.
For this who want to be able to personalise their desktop, use Aero Peek and Taskbar Previews then you may want to upgrade to Home Premium. Microsoft has been quiet about what it will be charging for that particular upgrade, until now.
Brandon LeBlanc, from the Windows Blog, has revealed that the move from Starter Edition to Home Premium will cost netbook users $79.99. This will be done under a program called Windows Anytime Upgrade (or WAU for short). To move from Home Premium to Professional will cost $89.99 and to move from Home Premium to Ultimate will cost $139.99. These will be available as retail upgrade packages in the US after October 22nd.
For those of you in Australia, Belgium, Canada, France, Germany, Italy, Japan, the Netherlands, Spain, Sweden, Switzerland, the UK or the US – you will also be able to purchase the upgrade directly from the Windows 7 operating system. There is no pricing for other countries right now.