August 4, 2009 at 12:31 pm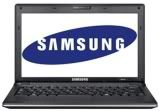 Samsung still has not confirmed rumours of the N510 11.6-inch netbook, despite a number of retailer listings. Now the French-based retailer, Pixmania, has the ION-based netbook listed on its site for €499 and a release date of 21st August.
There's no information apart from that, although the listing does confirm the specifications that we've already seen. It will have a high-resolution (1366 x 768) display powered by a 1.66GHz N280 Atom, 1GB RAM and a 160GB HDD. It will come with the Nvidia 9400M GPU, HDMI-out, Wi-Fi (Draft-N), a 1.3MP webcam and 6-cell battery. If the release date is just a few weeks away, expect an official announcement from the company soon.
Via Blogeee.