August 6, 2009 at 6:26 pm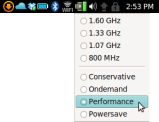 Jolicloud has released the latest version (Alpha 2c) of its operating system. Improvements to this version include the latest stable version of the Linux kernel, which should result in faster operation and system boots. It also includes quite a number of bug fixes for various netbooks that you can find here.
The new release also includes a new applet that allows you to manage battery life along with CPU performance (pictured above). A Firefox patch is also included to improve browser performance.
The next major release from the Jolicloud team will be the "Atom super optimized Linux kernel". As the name suggests the release will look to optimise performance for netbooks powered by Intel Atom processors (i.e. the majority of netbooks out there). This means better battery life, faster boot times and better graphic support.