August 6, 2009 at 9:18 am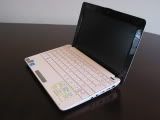 The Asus Eee PC 1005HA Seashell can be thought of as the spiritual successor to the company's best-selling Eee PC 1000HE. It is thinner, lighter and sports a nicer design, whilst not compromising on the specifications and battery life. The 1005HA is a worthy update to the 1000HE and in our view, the biggest hurdle Asus' marketing team will face is communicating the significant differences between the N270 and N280 Atom versions of the Eee PC 10005HA.
We reviewed the N270 Atom model and found it to be a very competent netbook, offering good build quality, a comfortable keyboard and a crisp matte display. However, battery life wasn't stellar when compared to the standard set by the most recent models and the 1005HA also had heat issues. At its price point though, it offers great value for money compared to its peers. Read on for our thorough review, including some comprehensive performance and battery tests.
Positives:
– Good value for money
– Clear & crisp matte display
– Strong build quality
– Good keyboard layout; all buttons in right places; no flex
– Contemporary 'seashell' design
– Responsive touchpad & mouse buttons
– Easy access to memory module (RAM)
Neutral
– Above average battery life, although below the best-in-class
– Performance broadly in-line with other N270 Atom netbooks
– New smaller power supply port appears to be fragile
Negatives:
– Glossy lid is fingerprint magnet
– Air blown through side vent can get quite hot
– Noticeable fan noise
– Shallow keyboard travel
– Touchpad is missing some multi-touch gestures like two-finger scrolling
– No Bluetooth or sleeve in the N270 version
– A 0.3MP webcam is not up to par (N280 comes with 1.3MP webcam)
– No access panel for HDD
Asus Eee PC 1005HA N270 [1005HA-WHI064X / 1005HA-BLK083X] Technical Specifications:
Operating System: Windows XP Home
Intel CPU: Intel Atom N270
Memory: 1GB DDR2 SO-DIMM [Maximum 2GB]
Display: 10.1″ LED Backlight WSVGA Anti-glare Screen (1024×600)
Wireless Data Network: WLAN 802.11b/g/n @2.4GHz
Hybrid Storage: 160GB HDD
10GB Eee Storage
Webcam: 0.3MP
Audio: Hi-Definition Audio CODEC
Stereo speaker
Digital Array Mic (XP Only)
Input / Output: 1 x VGA Port (D-sub 15-pin for external monitor)
3 x USB 2.0
1 x LAN RJ-45
2 x Audio Jack (Head Phone / Mic-in)
Card Reader: MMC/ SD(SDHC)
Battery Life: Up to 8.5hrs (6 cells 4400mAh 48.84W/h)
Dimensions: 262mm(W) x 178mm(D) x 25.9mm~ 36.5mm(H)
Weight: 1.27Kg (with 6-Cell Battery)
Colours: White and Black
Price (at time of publication): £268.97 (Amazon.co.uk), £268.97 (Laptops Direct), $329.99 (Amazon.com), $349.99 (Newegg.com)
The Asus Eee PC 1005HA is the second 10-inch netbook in Asus' Seashell line. The first Seashell was the elegant 1008HA, which boasts a super-slim, lightweight chassis along with good battery life and performance. The Eee PC 1008HA is certainly a sexy device and even comes with port flap covers to keep the sleek lines of the exterior intact. However, one of the main compromises of this slender design is a sealed rather than removable battery.
Asus has positioned the Eee PC 1005HA Seashell as a more mainstream netbook. It maintains the design cues of the 1008HA, but does away with the port flaps and comes with a removable battery. As a result, the 1005HA is heavier and thicker than the 1008HA but offers better value for money and can be seen as the spiritual successor to the best-selling 1000HE.
Whilst the Eee PC 1000HE has a single set of specifications, the 1005HA has two. One SKU of the Eee PC 1005HA comes with the 1.6GHz N270 Atom processor, whilst the other comes with a 1.66GHz N280 Atom. If that were the only difference, then that wouldn't be too complicated to digest.
Unfortunately, the differences don't stop there. The N270 model comes with a lower-rated 6-cell battery (4400 mAh) that should be good for 8.5 hours according to the company. You will not find Bluetooth on this model and it only has a 0.3MP webcam. The N270 SKU also has a matte (1024 x 600) display. Asus also does not include a netbook sleeve with this version.
This compares to the more expensive N280 Atom model that includes Bluetooth 2.1+EDR, a 1.3MP webcam, a netbook sleeve and a higher capacity 6-cell battery (5600 mAh) good for 10.5 hours. This version also comes with a glossy screen.
The significant differences that exist between both models presents a marketing headache for the company. We have already observed across a number of forum boards, confused consumers debating exactly what you get with each model. In our opinion, Asus should have given both of these models different model names to distinguish between them. Whilst on an external level, both SKUs look exactly the same, the different hardware means that each will have different performance, battery lives and netbook displays (glossy vs. matte). As such, we want to clarify that this review is only for the 1005HA N270.
Apart from the specifications discussed above, you won't find too much missing. It comes with a 160GB hard-disk drive along with 10GB of Eee online storage. You'll also find 1GB of RAM and Asus allows you to upgrade this to a maximum of 2GB through the easy to use access panel on the bottom. It comes with Wi-Fi Draft-N, three USB ports, a card reader, full-sized VGA port, digital array mic and a couple of audio jacks.
We previously covered the unboxing here. Inside the box you will find a power supply, battery, some documentation (user manual & warranty card) along with an XP support DVD. As this is the N270 version, you won't find a netbook sleeve (that's been reserved for the N280 SKU). As usual for Asus, the power supply included is one of the smallest power bricks compared to its peers. However, Asus has changed the port that plugs into the netbook, which is much smaller than previous versions. Whilst this means that it shouldn't stick out as much when plugged in, it does appear to be more fragile and a bit trickier to get in and out. We do wonder how this port would far over long-term use.