August 7, 2009 at 9:34 pm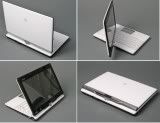 Both Hewlett-Packard (HP) and Micro-Star International (MSI) are planning to launch convertible netbooks during the first half of 2010, according to Digitimes. MSI will be launching a 10-inch tablet netbook at the start of 2010, whilst HP plans a similar release for April/May 2010 manufactured by OEM Inventec.
The report says that both convertible netbooks will use Intel's next-gen Pineview N450 Atom processor. It's therefore very likely that they will be powered by Windows 7, taking advantage of the operating system's touch features. It also says that Asus will be launching its 10-inch Eee PC T101 tablet netbook with Windows 7. The report goes on to say that Apple may be launching its tablet device as early as November 2009.
Via Electronista.