August 11, 2009 at 11:17 am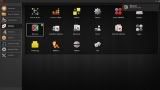 Ubuntu Netbook Remix (UNR) will get some slight changes to its user interface in time for the Ubuntu 9.10 Karmic Koala release in October. This tweaks includes the removal of the right side toolbar that now gives you more room for program shortcuts. Adding shortcuts to your Favourites area has also been simplified.
Other changes include more responsiveness, the app launcher is faster and no longer animates. The colour scheme has also changed marginally. If you can't wait until October, you can download the pre-release version here. Click through for a screengrab of the new design.
Via Liliputing.