August 13, 2009 at 1:15 pm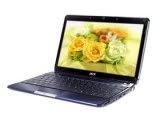 It appears that Acer's 11.6-inch CULV-powered ultra-thin, the Aspire Timeline 1810T will be rebranded in the US/Canada. The model will be known as the Aspire 1410 in certain markets and is listed as such on the Acer US site. It is also available to pre-order at both OfficeNation and CDW for between $465 – $475.
The model was first brought to our attention by reader Koolshen, who spotted it listed on the Acer Germany site. Confusingly, the Aspire 1410 is still listed on the German site, despite the fact that the support pages list the Timeline 1810T. It is unknown whether Acer will adopt the new name at this late stage, however most European pre-order pages we've come across still list it as the 1810T.
The Aspire 1410 (Timeline 1810T) has an 11.6-inch (1366 x 768) LED backlit display. It comes with a 1.4GHz Intel ULV SU3500 processor, GMA 4500MHD graphics and supports up to 4GB RAM. The base model will come with a 250GB HDD.
Thanks Denny!