August 14, 2009 at 3:23 pm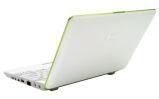 Both Samsung & LG will see strong netbook volume growth during 2010 according to industry sources. Shipments are forecast to reach around seven million units, this compares to the 12 – 15 million units that is projected for Acer, one of the leading netbook manufacturers.
Part of this growth is expected to come from the companies close ties with telecom operators. Both companies already manufacture their own handsets as well as netbooks. Bundling subsidised netbooks with data contracts is already big business, but the choice of devices offered is expected to grow.
Via Digitimes.