August 17, 2009 at 9:10 pm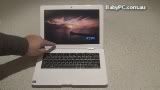 Following on from an unboxing last week, the 12.1-inch iiView A2 netbook has now been reviewed by BabyPC. Impressions were favourable with the iiView A2 being solidly built and good performance from the machine, which comes preinstalled with Windows 7 RC. It also has a matte display and glossy finish on the exterior.
The keyboard was comfortable to use, although given the size of the chassis, it would have been better if it extended closer to the edges. It also comes with a number of useful applications including RocketDock, avast!, Win RAR and Skype. You can check out their video impressions after the break.