August 17, 2009 at 2:52 pm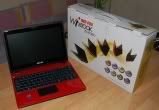 Philippine company, Red Fox, recently launched the Wizbook N1020i netbook. Whilst most of the specs are your standard fare, the Wizbook is the first netbook to feature the Bluetooth 3.0 standard. It also as an Expresscard slot and optional 6-cell 4600mAh battery.
Electronic Pulp has reviewed the N1020i and found that it didn't really offer good value for money. It only ships with a standard 3-cell battery, has a poorly placed touchpad and small keyboard. Yes, it does offer a great design in five different colours but you can get the Asus Eee PC 1000HE for less money that has better specs. You can read the full review here.
Via Netbooked.