August 18, 2009 at 5:31 pm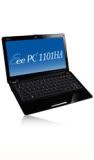 The 3G-enabled version of the Eee PC 1101HA, called the 1101HGO, is now available in Italy. TIM (Telecom Italia Mobile) is the first European carrier to offer the 11.6-inch netbook. TIM is charging €499 for the netbook that includes 5 hours of internet use. It also comes with a €5 pre-paid data card.
The model was first announced at Computex. To compensate for the additional power drain from 3G, it will be fitted with a slightly larger battery (that protrudes out) than the one found in the 1101HA. There's no word whether when/if this will be released with other European carriers.
Via Netbook Italia.