August 18, 2009 at 11:19 am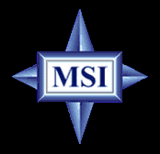 MSI will launch netbooks using Intel's next-generation Atom Pineview processors in December 2009 according to Digitimes. The Intel Pine Trail platform launch has been pushed back from October 2009 to Q1 2010, but the report says that MSI is planning to launch their netbooks ahead of schedule to avoid competition. This means the company would not need to compete on price.
The new netbooks will use the Windows 7 operating system and also come with touchscreen displays. MSI's peers, such as Asus and Asustek, will be sticking with Intel's schedule according to the report.