August 18, 2009 at 3:01 pm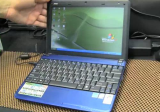 The MSI Wind U100 PLUS netbook is only a few weeks away from being released in Europe, however Sascha from NetbookNews managed to get hands-on with the device at the Taipei Computer Market. The U100 PLUS is effectively a refresh of the U100 and comes with a faster N280 (1.66GHz) Atom processor and two additional colours (Rose champagne and Metallic Blue).
He played with the metallic blue version, which has a glossy lid and matte display. The specs are pretty much the same as the U100 (bar the upgraded Atom) and comes with 1GB RAM and a 160GB HDD. It is currently being sold in Taipei for the equivalent of $400 or €320. Check out the video after the break.