August 31, 2009 at 12:44 pm
Following on from the lead of Lenovo and Samsung with their upcoming ION netbooks, it is no surprise to learn that Asus is also planning an Nvidia ION-powered netbook according to a leaked Eee PC roadmap. The roadmap was disclosed by EeeUser Forum member, JazzDoc, who claims to be an industry insider.
The new $499 model will have a model number Eee PC 1201 and sport a 12-inch display and be powered by a 1.6GHz N270 Atom, 250GB HDD, 2GB RAM, 6-cell battery, Bluetooth, Wi-Fi (Draft-N) and Windows 7 Home Premium. Interestingly, the roadmap suggests that the 11.6-inch 1101HA will reach EOL in October in anticipation of this new model.
According to the roadmap, there will also be revised SKUs for the Eee PC 1005HA and 1008HA netbooks for the launch of Windows 7. The Eee PC 1005HA will get Windows 7 Starter Edition and a 250GB hard drive. The other differences between the 1005HA-P and 1005HA-M will remain the same.
The Eee PC 1008HA will end as we know it and be replaced by two new SKUs (similar to the 1005HA). The lower priced 1008HA-M ($429.99) will have a 1.66GHz N280 Atom CPU, 250GB HDD, W7 Starter Edition and 1GB RAM. The 1008HA-P ($479.99) will have a N280 Atom, a 320GB HDD, 2GB RAM and come with W7 Home Premium.
There is also confirmation of a multi-touch SKU of the T91, which will come with W7 Home Premium and a 32GB flash drive. The 10-inch T101 convertible netbook is due to hit in Q1 2010 with Windows 7 and the new Pineview Atom N450 processor.
Roadmap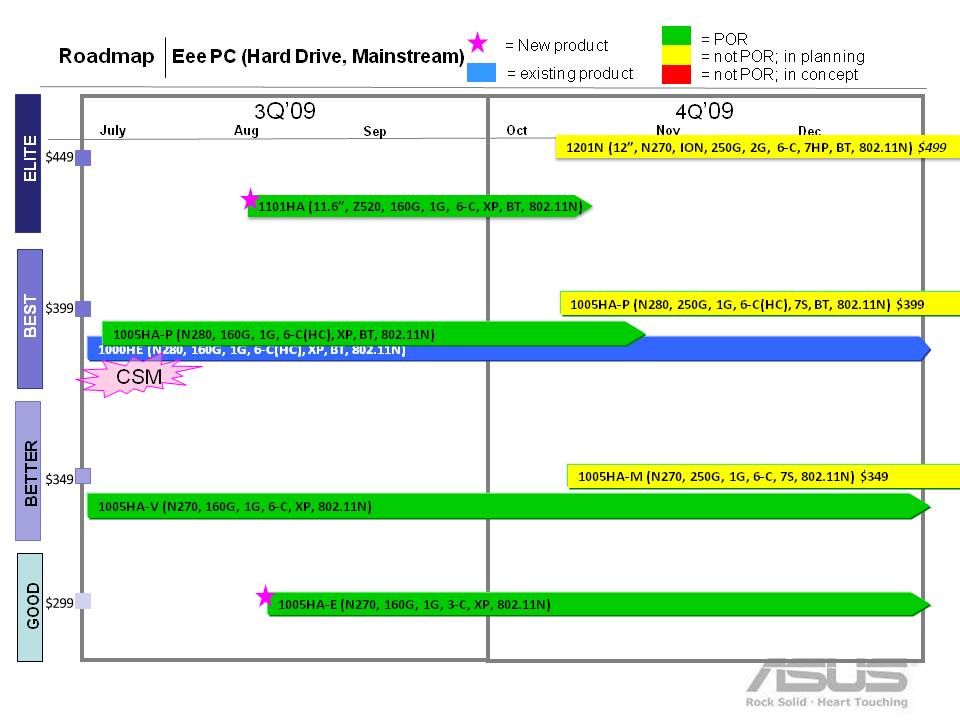 "October
1201N – (12", N270, ION, 250G, 2G, 6-Cell, 7HP, BT, 802.11n) MSRP $499
1101HA – short life, end of life in Oct
1000HE – stays the same, not end of life yet
1005HA-P – (N280, 250G, 1G, 6-Cell (HC), 7S, BT, 802.11n) MSRP $399
1005HA-M – (N270, 250G, 1G, 6-Cell, 7S, 802.11n) MSRP $349
1005HA-V – stays the same
1008HA – end of life Nov
1008HA-P – (N280, 320G, 2G, 7HP, BT, 802.11n) MSRP $479.99
1008HA-M – (N280, 250G, 1G, 7S, BT, 802.11n) MSRP $429.99
T91 – stays the same
T91MT – (32GB, 7 HP, BT) MSRP $549
January
T101P – probably N450, Win7 -1st quarter
7HP = Windows 7 Home Premium
7S = Windows 7 Starter
HC = High Capacity"