September 8, 2009 at 8:02 pm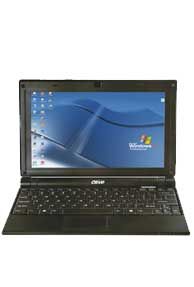 A partnership between Olive Telecommunication, a subsidiary of Haier Mobile, and Tata Teleservices (TTSL) has today announced the first 3G-equipped netbook in India. The X107H netbook comes with the usual specifications including a 1.6GHz processor, 1GB RAM and a 160GB HDD.
The netbook will be enabled with the Qualcomm QSC 6085 chipset, with data packages provided by Tata. The wireless broadband service is called Photon Plus. The X107H will cost 23,999 Rupees (£300), which includes the Photon Plus service. There will be ten subsidised netbooks altogether and will launch in a couple of months. These models will be priced between 4,999 to 39,999 Rupees (£63 – £500).
"The unique advantages of our high-speed Internet access service get compounded by the feature-rich and attractively-priced Netbook, which will be on offer with an exclusive range of tariff offerings, designed to bring the best of both worlds to the market," said Anil Sardana, Managing Director of Tata Teleservices
Via TechTree [via Liliputing].