September 14, 2009 at 10:37 pm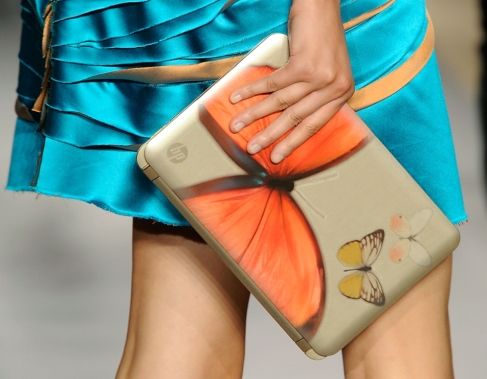 Fashion never stands still and therefore it's no surprise to see HP announcing a new netbook in conjunction with fashion designer, Vivienne Tam. This new netbook has a design inspired by "Butterfly Lovers", a classic Chinese love story. It features big butterflies against a champagne background. It replaces the previous Vivienne Tam netbook that had a red floral design.
The HP Vivienne Tam digital clutch (as it is called) will be available in Spring 2010. There's no word on hardware or pricing right now.
"To me, butterflies symbolize love, freedom, independence and transformation," said Vivienne Tam. "I love working with HP because they are also inspired by nature. Together we bring life, color and personality to the computer world, creating fashionable technology for modern women."
"The new digital clutch design embodies the inspiration for my entire spring collection," said Tam. "When women around the globe carry HP's digital clutch and wear my clothes, I want them to feel independent and free, like butterflies."