October 14, 2009 at 8:45 pm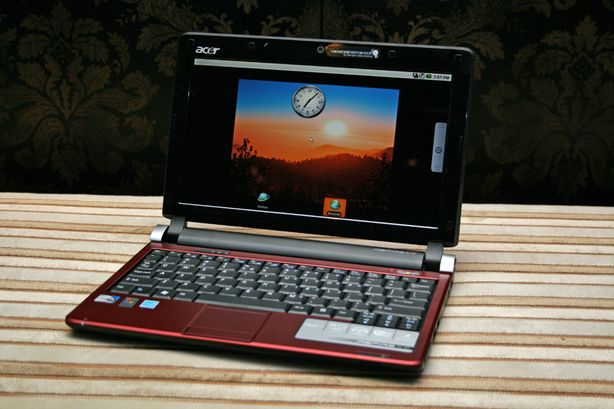 The dual-boot Android Acer Aspire One netbook was officially announced today. Pre-orders of the device appeared on Amazon.com site yesterday, listing it as dual-booting with XP & Android. However, here in the UK, the netbook will be available with both XP or Windows 7. The netbook will be released on October 22nd with the dual-boot XP version costing £279 and the dual-boot Windows 7 Starter version costing £299.
Other new bits of information regarding this netbook, includes the fact that you will be able to boot up the netbook (in Android) in a "matter of seconds". The company is quoting 18 seconds to search the internet and just 3 seconds to shut down. If you need to switch to Windows 7 you will not even need to reboot. The great thing is that all of the web connections, whilst in Android, will remain running even if you reboot.
PC Pro managed to get some hands-on time with the Android/Windows 7 netbook and came away with mixed opinions. Android on the netbook wasn't convincing, with only a few apps installed as standard (Firefox, photo gallery, camera, email & music player). Battery life also looks weak with a runtime of around two hours expected.
In terms of switching OSes, whilst you could move from Android to Windows 7 with ease, the same couldn't be said about going the other way (this may come closer to launch). However, boot times were impressive and the D250 was found to be attractive and slender. The Register also some hands-on impressions worth checking out, they found out that you can't actually boot straight into Windows 7. You must boot into Android and then switch from there.