November 30, 2009 at 7:08 pm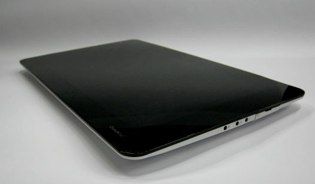 The CrunchPad project from TechCrunch founder, Michael Arrington has been sensationally axed today following what Arrington describes as "greed, jealousy and miscommunication." This is a sharp turnaround, following positive momentum and an imminent launch.
The 12-inch touchscreen internet tablet was being manufactured by Fusion Garage, According to Arrington's side of the story, it seems that Fusion Garage was looking to cut ties and push ahead with the CrunchPad without full ownership of the intellectual property.
Obviously Arrington is not happy about this. "We will almost certainly be filing multiple lawsuits against Fusion Garage, and possibly Chandra [Founder of Fusion Garage] and his shareholders as individuals, shortly. The legal system will work it all out over time," he said. Disappointing news indeed. Click through for one of the key excerpts from Arrington's post.
But the email went on. Bizarrely, we were being notified that we were no longer involved with the project. Our project. Chandra said that based on pressure from his shareholders he had decided to move forward and sell the device directly through Fusion Garage, without our involvement.

Err, what? This is the equivalent of Foxconn, who build the iPhone, notifiying Apple a couple of days before launch that they'd be moving ahead and selling the iPhone directly without any involvement from Apple.

Chandra also forwarded an internal email from one of his shareholders. My favorite part of the email: "We still acknowledge that Arrington and TechCrunch bring some value to your business endeavor…If he agrees to our terms, we would have Arrington assume the role of visionary/evangelist/marketing head and Fusion Garage would acquire the rights to use the Crunchpad brand and name. Personally, I don't think the name is all that important but you seem to be somewhat attached to the name."

And with that, the entire project self destructed.