December 9, 2009 at 8:16 pm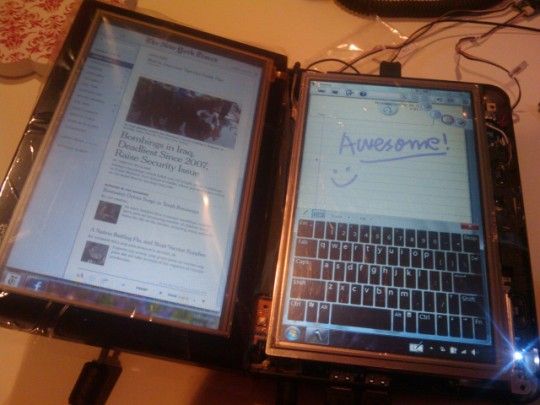 Now this is a mod we've not come across before. MyDellMini member pakkei decided to embark on the Harlequin project, which was to create something similar to the Microsoft Courier. For those that don't know, the fabled Microsoft Courier has dual-screen multi-touch panels and is designed for writing, flicking and drawing with a stylus, in addition to fingers.
The Harlequin is pakkei's take on the project, where he has modded his Dell Mini 9 netbook to form a slate and then added another 9-inch USB touchscreen. The left panel will be used for reading content and the right panel will be used for taking notes. The orientation of the displays can also be reversed to be used in a more normal netbook form-factor too.
As the device uses Windows 7 it features both handwriting and voice recognition. The Harlequin is mostly working although it does need a dual-hinged chassis. Seems like some good handy work from pakkei.
Via Netbooked.