December 11, 2009 at 9:11 pm
The Asus Eee PC 1201N dual-core ION netbook is not set to hit US/UK shores until next month, but it appears that a lucky few have already got hold of the powerful device. Pierre over at Blogeee has a very thorough selection of photos of the netbook including a number of hands-on videos. The videos are in French but it's not hard to get the gist of what's going on.
Pierre also compares the 1201N to other netbooks but unfortunately there are no benchmarks or battery life results, this will come later. However Vention from Noti did manage to do some graphics benchmarks against the HP Min 311 (also ION-powered).
Interestingly, the performance between both machines were very similar. The Asus 1201N was slightly ahead in 3DMark2006, but was behind in 3DMark 2003 and 3DMark2005. I'm looking forward to seeing the results comparing more CPU-intensive tasks to see how the dual-core processor of the 1201N fares against traditional single-core netbooks. Check out the graphs after the break.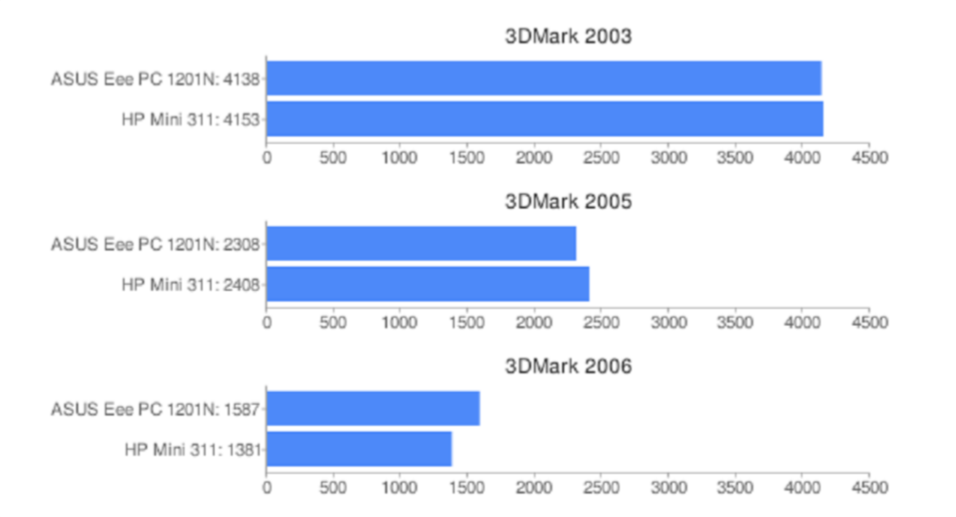 Via Slashgear.