December 31, 2009 at 10:49 am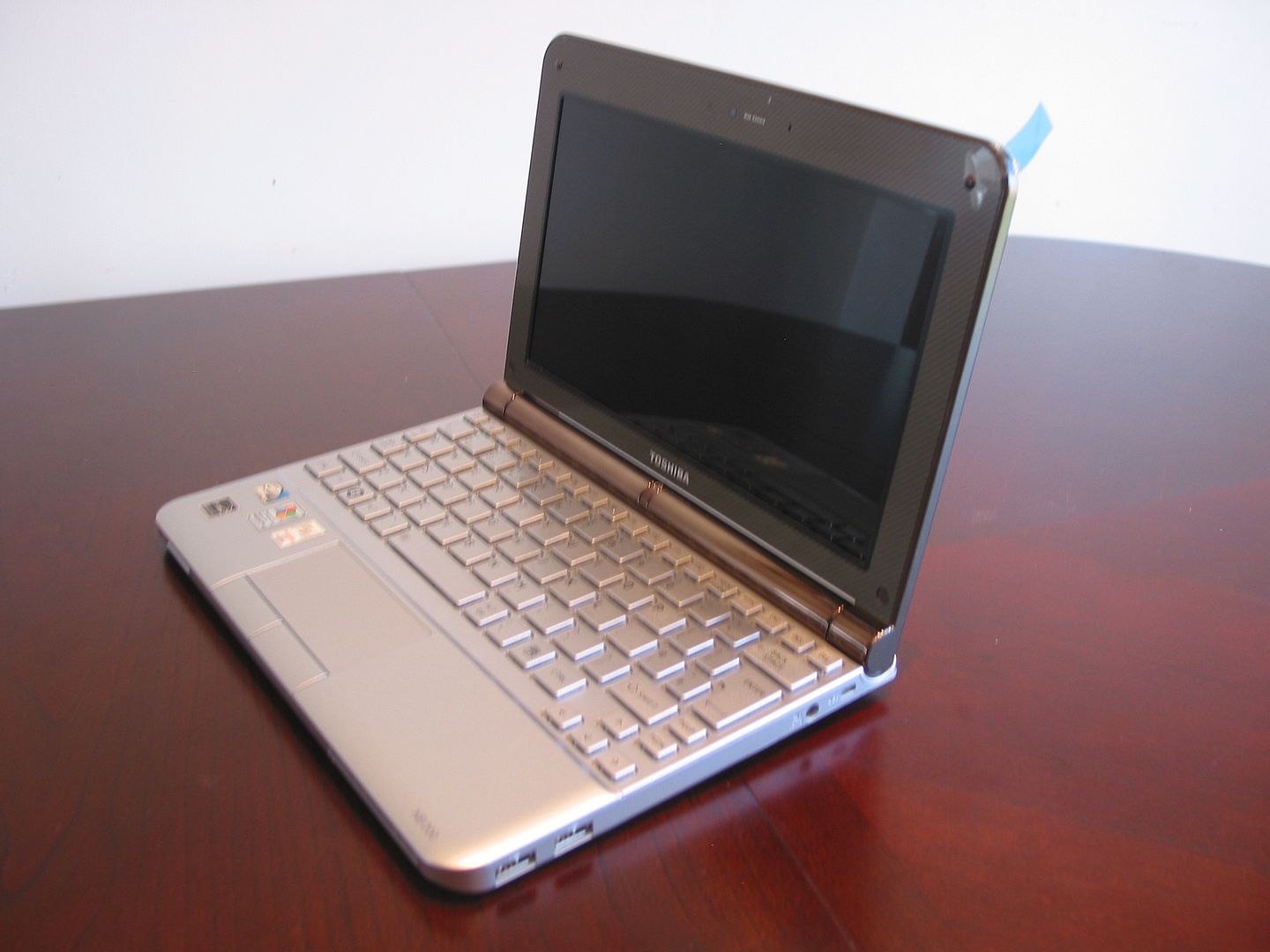 Toshiba hit a home run with the Mini NB200, its first 10-inch netbook, winning rave reviews since launch. The NB200 follows on from its 8.9-inch NB100 and the company certainly upped the game in terms of marrying desirability, portability and endurance.
The Toshiba NB200 exists in various configurations. We tested the NB200-10Z, one of the higher end SKUs that comes with a 1.66GHz N280 Atom processor, chiclet keyboard, Bluetooth, Windows XP and a quoted 9 hours battery life. Read our full review and decide for yourself whether the Toshiba NB200 lives up to the hype.
Positives:
– Crisp, bright glossy display, one of the best we've used
– The largest touchpad seen in a 10-inch netbook
– Firm, large mouse buttons with good feedback
– Chiclet keyboard has large spacing between keys and offers good tactile feedback
– Attractive design, patterned lid not prone to fingerprint marks
– Good battery life
– Sturdy build quality
– Quiet in operation & remains cool
– Easy access to HDD and RAM components
– Hard drive shock protection
– Webcam and caps lock light indicators
– Chargeable USB port
Negatives:
– Battery juts out behind the chassis, this means it won't fit some cases
– Very weak speaker audio
– QWERTY layout sits unnaturally to left of chassis; takes getting used to
– Keyboard has small space bar and minor flex
– Default touchpad sensitivity can be a bit high
– No draft-N wireless
– Large display bezel may be off-putting for some
– Long boot times
– Stiff USB ports, these loosen up a little over time
– No netbook sleeve included in package; Windows XP recovery disc costs extra
Toshiba Mini NB200-10Z Technical Specifications:
Processor: Intel Atom processor N280 (1.66GHz)
667MHz Front Side Bus
512 KB cache
Operating system: Genuine Windows XP Home 32-bit Edition (pre-installed, Toshiba-HDD recovery)
Colour: Satin Brown
System memory: 1GB (2GB max) DDR2 RAM (800MHz)
Hard disk capacity: 160 GB (5,400 rpm)
Display: 10.1-inch TruBrite WSVGA (1024 x 600) TFT display with LED backlight
Graphics: Intel GMA 950
Up to 224 MB total available graphics memory with 512 MB system memory
Max External Video Resolution: 1,600 x 1,200
I/O: 1 x DC-in
1 x external monitor
1 x RJ-45
1 x external microphone
1 x built-in microphone
1 x headphone (stereo)
3 (Left 1, Right 2) x USB 2.0 Sleep-and-Charge
1 x integrated VGA Web Camera (0.3MP)
1 x Two-in-One Bridge Media slot (supports SD Cards up to 16 GB and MultiMedia Card up to 2 GB)
Wireless: Bluetooth 2.1 + EDR, Wi-Fi (b/g)
Ethernet LAN: 10BASE-T/100BASE-TX
Keyboard keys: 86
Battery: 6-cell (63Wh) lithium-ion battery lasts for up to 9h05min (Mobile Mark 2007)
AC adaptor input voltage: Autosensing AC adapter (100/240 V) for worldwide usage
Output voltage : 19 V
Output current : 1.58 A
Dimensions: W x D x H : 263 x 211.5 x 25.4 (front) / 32.25 (rear) mm
Weight: 1.33 kg
Price (at time of publication): £259.99 (Amazon.co.uk), $399.97 (NB205-N310 Amazon.com), $329.99 (NB205-N210 Newegg.com)
The Toshiba NB200 goes by a number of different names depending on the region you're in. In Japan, it is known as the Dynabook UX, whilst in the US it is known as the NB205. I'm not sure why they added the extra '5' compared to the European SKU. The specs for both are exactly the same, it's not as if the NB205 offers anything extra over the NB200. This is not entirely clear when looking at model numbers alone.
Following the release of Windows 7, there now exists a number of different versions of the Toshiba NB200 in the UK market. The NB200-10Z version that we tested is the premium Windows XP model that comes with a 1.66GHz N280 Atom processor, satin brown lid, chiclet keyboard, Bluetooth 2.1 and a 9 hour battery life.
The cheaper models are all black and come with a 1.6GHz N270 Atom, flat-key keyboard and no Bluetooth. Looking at the Toshiba UK website, there are currently 16 configurations of the NB200 netbook (including four Windows 7 Starter SKUs). So make sure you do your research in terms of specs and colours before clicking that buy button.
In terms of specifications, there are only two features which are not up to standard compared to current high-end netbooks. First of all, you only get Wi-Fi b/g, there is no draft-N standard compatibility. The second is that the NB200 comes with a 0.3MP webcam, whereas a 1.3MP webcam normally exists in most premium netbooks in the market.
Apart from that, the NB200 is as fully-featured as you would expect. It comes with a 10.1-inch (1024 x 600) glossy display, 1GB RAM (upgradeable to 2GB), a 160GB HDD, three USB ports (one chargeable) Bluetooth 2.1, Wi-Fi (b/g), card reader and a 63Wh 6-cell battery.
We previously covered the unboxing here. Inside the box you will find a power supply, battery, some documentation (user manual & warranty card) and that's it. It's somewhat mean that for a premium SKU Toshiba couldn't even throw in a netbook sleeve. Adding insult to injury, you'll have to fork out extra money if you want a recovery XP disk. You can create one yourself, but this is something not all people will be proficient in doing and Toshiba should have really provided one in the box. It's the first time we've not seen one included.