January 7, 2010 at 6:22 pm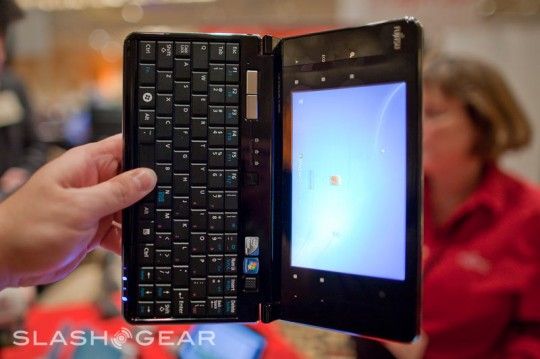 Fujitsu has unleashed a number of products at CES, but the two relevant here are the 5.6-inch UH900 UMPC and 10-inch MH380 netbook. The champagne-coloured UH900 weighs just 1.1lbs and supports a 5.6-inch multi-touch display as well as Windows 7. The UH900 is powered by a 1.6GHz Z530 Atom, 2GB Ram and a 64GB SSD. It also comes with a Garmin app, allowing you to use it for GPS, other features include two USB ports, card reader and mini VGA. It doesn't come cheap though at $1,000.
The $449 MH380 netbook has a 10-inch display and comes with a glossy red finish and flat black keyboard. Apart from a high-resolution screen (1366 x 768) the rest of the features are the same as most other recently released Pine Trail netbooks. This includes a 1.66GHz N450 Atom processor, 1GB Ram, 250GB HDD and Windows 7 Starter. You also get Wi-Fi (b/g/n), Bluetooth and webcam thrown into the mix too. However, the MH380 has a circular scrolling pad, the first time we've seen something like it in a netbook. Check out videos of both devices in action after the break.
Via Laptop Mag (1 & 2), Liliputing, Netbooknews and Slashgear.