January 8, 2010 at 11:41 pm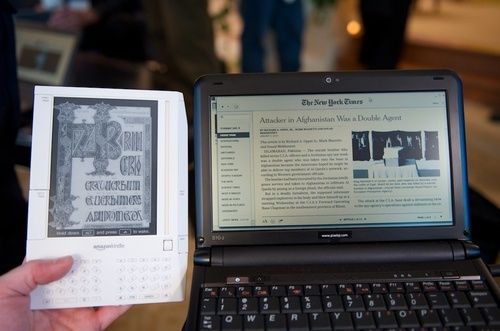 We have already seen a few demos of Pixel Qi's e-ink killing, 3Qi display, but there's always room for more. The 3-in-1 display can not only switch between an efficient black-and-white mode and a high resolution colour screen, but also to an e-paper mode suitable for reading in direct sunlight.
The possibilities for such a screen extend behind obvious e-reader devices. Judging by the number of hands-on videos (after the break) we've seen, it seems that this is genuinely innovative technology and once refined, could feature on many netbooks/notebooks/smartbooks of the future as well as e-readers.
Being able to turn off the backlight saves you 2W of power (down to 0.5W) so you could extend the battery life of your device too if needed. We were hoping that we'd see some firm product announcements at CES of devices using these displays, but until we do, check out a number of hands-on video impressions after the jump.
Via ArmDevices, Engadget, Gizmodo, JKKMobile, Liliputing and NetbookNews.