February 1, 2010 at 8:59 pm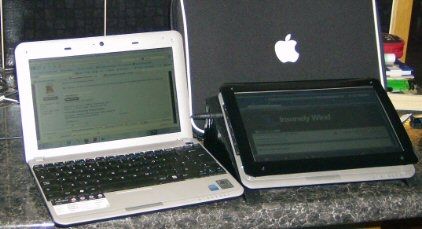 One enterprising MSI Wind owner is conducted a nifty mod where he is looking to turn his Advent 4211c netbook (a rebadged MSI Wind U100) into a touchscreen tablet that opens up to reveal the keyboard, much like a slide form-factor seen on some mobile phones.
The whole project is work in progress, but he has managed to install the touchscreen and flip the display around. He has even added some custom buttons allowing him to dual boot the device between Windows 7 or OS X 10.6.2. The whole thing is working as a normal tablet but he hasn't got round to installing the rails so far. That to me sound like the biggest challenge, so fingers crossed he completes his vision!
Via Netbooked.